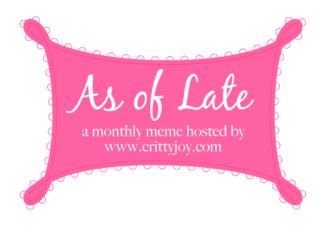 [Came across this 'As of Late' idea on another blog I was perusing...I thought it was a great idea to get the blogging juices flowin'.]
Lately I've started visiting the library regularly.
Lately I've been watching the tone of voice I use with my kids - when I yell, they yell and when I talk politely, they tend to as well.
Lately my body has been protesting my longer runs (and here I thought we were doing so well).
Lately I've been finding inspiration in color. Life is too short to stick with neutral.
Lately I've been enjoying lazy mornings with nothing planned before 10am.
(And lately I've been reminding D&E every night before bed you can only get up if the first number on your clock is an eight...)
Lately I've been thinking through a chore chart system that will work for our family.
Lately I've been really excited to try water aerobics (I know...am I almost 32 or 62?)
Lately I've been keeping Little Blondie up in the afternoons and enjoying some peace and quiet after 8pm.
Lately I've decided my theme for the summer: slow down.