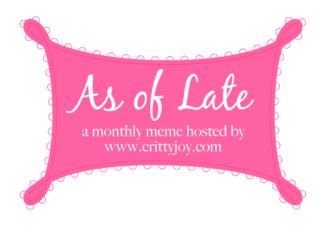 Lately I've been working through the *new* Martha Challenges from 31 Days to Clean with a couple of friends. We're working on building a consistent day-to-day cleaning routine for our homes.
Lately I've filed a few tidbits under Who Knew??
#1

Aggressive, male red-winged blackbirds will attack if you run through their territory.
#2 Never,
ever
touch jalapeno seeds (thanks for being a trailblazer, T).
Lately I've become obsessed healthily interested in pinning bits of inspiration on Pinterest.
Lately our household has had a small case of Bieber Fever.
Lately I've been water aerobicizing and loving it.
Lately I've been thinking about (maybe) penciling in "complete a triathlon" on my Year 32 To Do List.
Lately I've realized it's helpful to understand the where/who/what/why of our backgrounds. Our stories are important.
Lately I've noticed an increase in preggers people among our friends and acquaintances Who's next??